Menschenbilder (Images of Humanity)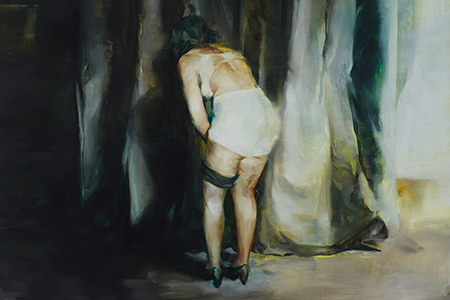 What image do we make of other people? What do they tell us? How do we confront them? How do we position ourselves in relation to them based on their gender, skin color, language, or natio­na­lity? With works by twelve artists from ten countries—all donations and acqui­si­tions from the last two years—the exhibi­tion Menschen­bilder (Images of Humanity), (October 30, 2021 – April 10, 2022) enables dialogs across conti­nents between the most diverse identi­ties and sensitivities.
In the exhibi­tion, one encoun­ters displaced people in New York harbor waiting for their entry permits after fleeing war-torn Europe; one comes across bizarre situa­tions in Sovietera Lithuania, becomes a voyeur in an English mod club reviving the lifestyle of the 1950s and '60s, and is confronted with the themes of puberty and gender identity. Classic nude drawings corre­spond with the head of a man cast in metal, which dissolves before the viewer's eyes, while a photo series of gesti­cu­la­ting hands of colored immigrants only hints at what they tell the photo­gra­pher about their experi­ences, dreams, and hopes. The charcoal profile portrait of a Black man with a red hole in his temple calls for justice. And the future is the great riddle for the young people who meet in the evening at the foot of a monument, as if on an island, in the middle of the big city of Madrid, to support each other in their forlornness.
The positions on view in Menschen­bilder (Images of Humanity) expand the thematic spectrum revolving around the repre­sen­ta­tion of humans and their diverse situations—a focal point within the collec­tion of the Kunst­mu­seum Wolfsburg since the 1990s with key works by, among others, Christian Boltanski, Bruce Nauman, Beat Streuli, and Cindy Sherman—and extend this into our immediate present with newly added works.
Artists repre­sented in the exhibi­tion: Eija-Liisa Ahtila (b. 1959), Ute Behrend (b. 1961), Serge Attukwei Clottey (b. 1985), Sylvain Couzinet-Jacques (b. 1983), François Jacob (b. 1976), Clemens Kalischer (1921–2018), Christian Keinstar (b. 1975), Rebecca Lewis (b. 1970), Anna Malagrida (b. 1970), Otto Piene (1928–2014), Tejal Shah (b. 1979), Antanas Sutkus (b. 1939)
Curator: Holger Broeker