Dark Mirror
Art from Latin America since 1968
September 27, 2015 – January 31, 2016
Installationviews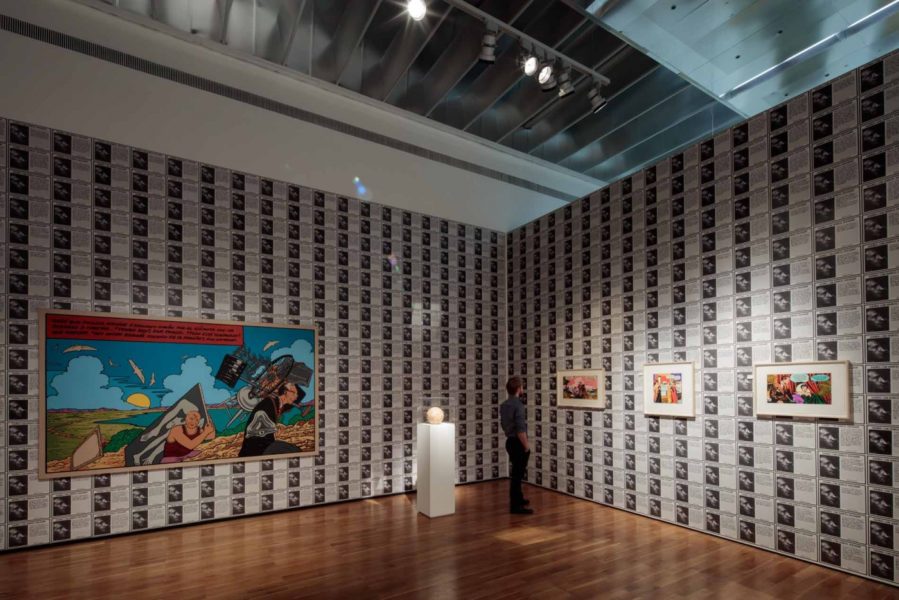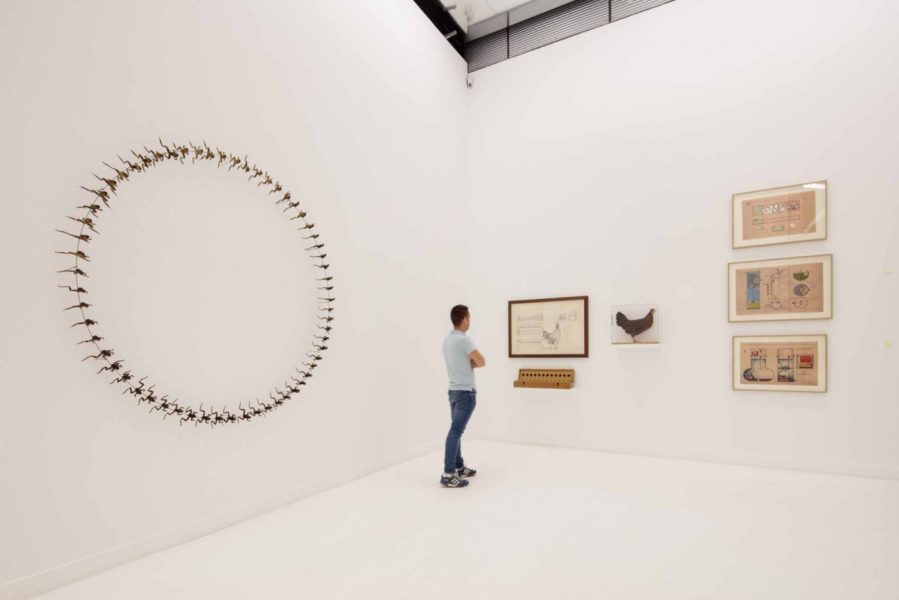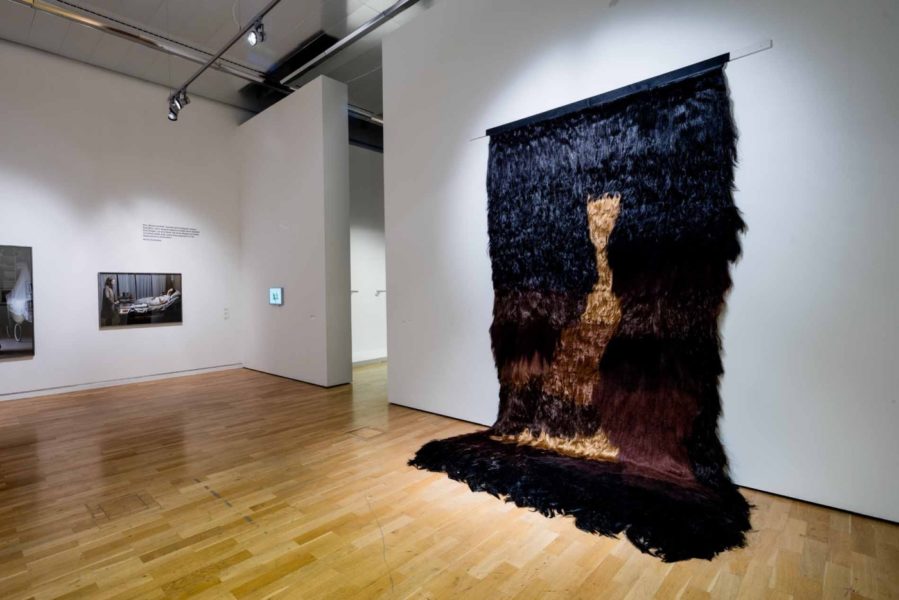 Info
A skull with a clown nose. A soccer ball comple­tely covered with nipples. Ants carrying flags and peace signs like activists. A Che Guevara made of soup beans, a Freud consis­ting of chocolate sauce.
"In Dark Mirror. Art from Latin­ame­rica since 1968", the Kunst­mu­seum Wolfsburg casts a wide-ranging and deter­mined glance at contem­porary art in Central and South America.
Encom­pas­sing 175 works from all genres, the exhibi­tion draws on the rich holdings of the Daros Latin­ame­rica Collec­tion in Zurich—installations, objects, paintings, photo­graphs, works on paper and videos. Visitors can experi­ence works by 41 artists repre­sen­ting 10 countries from Argentina to Costa Rica and Cuba to Uruguay. The visually expres­sive pieces range from Vik Muniz's "Clown Skull" to Miguel Angel Ríos's video instal­la­tion "A Morir", a dance of life and death that focuses on human existence with all the pithiness of the young Jorge Luis Borges—"All it takes to die is to be alive."
America, that is not only the United States but also Central and South America. "Dark Mirror" is concerned precisely with this second and no-less important part of the American (art) continent. One can no longer speak of an 'innocence of ignorance' in our globa­lized media and economy-oriented world of commodity flows and data streams, and yet from a European perspec­tive Latin America is still largely overlooked. The Kunst­mu­seum Wolfsburg has therefore expli­citly declared itself a site for the artistic analysis and creative scrutiny of this continent's art, which often spiced with irony, witty wordplays and black humor with the "Dark Mirror" exhibi­tion that draws on one of the world's largest and most important collec­tions of Latin American art.
The title "Dark Mirror" references Latin America's past and present. It concerns taking a deep look into the mirror in order to visualize the serious game of self- and external percep­tion. One example: in Europe, Coca-Cola, the drink of the GIs and the time of the post-war economic miracle, stands histo­ri­cally for freedom and consump­tion-oriented periods of booming growth. In Latin America the soft drink can also be seen socio-politi­cally as the symbol of an economic domina­tion by a foreign power, the overwhel­ming influence that the United States exerts on all aspects of everyday life. Antonio Caro's enameled metal plaque bearing the name "Colombia" written in Coca-Cola's unmistakable typeface in white letters on a red ground seemingly turns the country into an American brand.
"Dark Mirror" is concerned with an intense artistic experi­ence but also with geopo­li­tical tensions, violence in public and private, resis­tance and utopia in addition to the human body as an action field for psycho­so­cial and societal conflicts.
Works from the Daros Latinamerica Collection
Mauricio Alejo – Álvaro Barrios – Luis Fernando Benedit – Eduardo Berliner – Luis Camnitzer – María Fernanda Cardoso – Antonio Caro – Donna Conlon – Nicola Costan­tino – Mario Cravo Neto – Antonio Dias – Gonzalo Díaz – Juan Manuel Echavarría – Iván Edeza – Paz Errázuriz – León Ferrari – René Francisco – Víctor Grippo – Alfredo Jaar – Charles Juhász-Alvarado – Guillermo Kuitca – Nelson Leirner – Marcos López – Jorge Macchi – Ana Mendieta – Priscilla Monge – Vik Muniz – Oscar Muñoz – Nadín Ospina – Fernando Pareja & Leidy Chavez – Manuel Piña – Liliana Porter – José Alejandro Restrepo – Miguel Angel Ríos – Miguel Ángel Rojas – Betsabeé Romero – Rosemberg Sandoval – Teresa Serrano – Melanie Smith – Liliana Vélez Jaramillo – Horacio Zabala
Videos