Ryoji Ikeda
data-verse
December 7, 2019 – March 29, 2020
Installationviews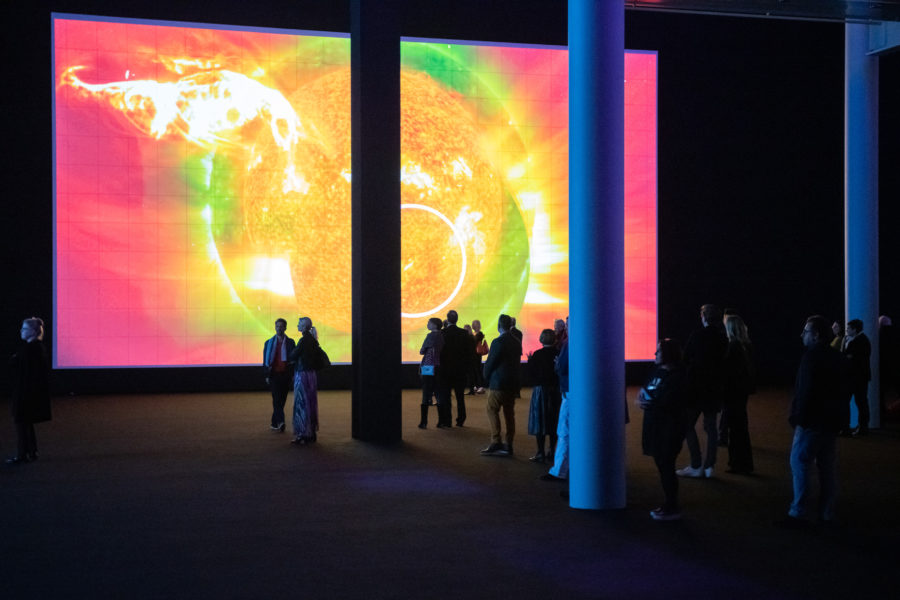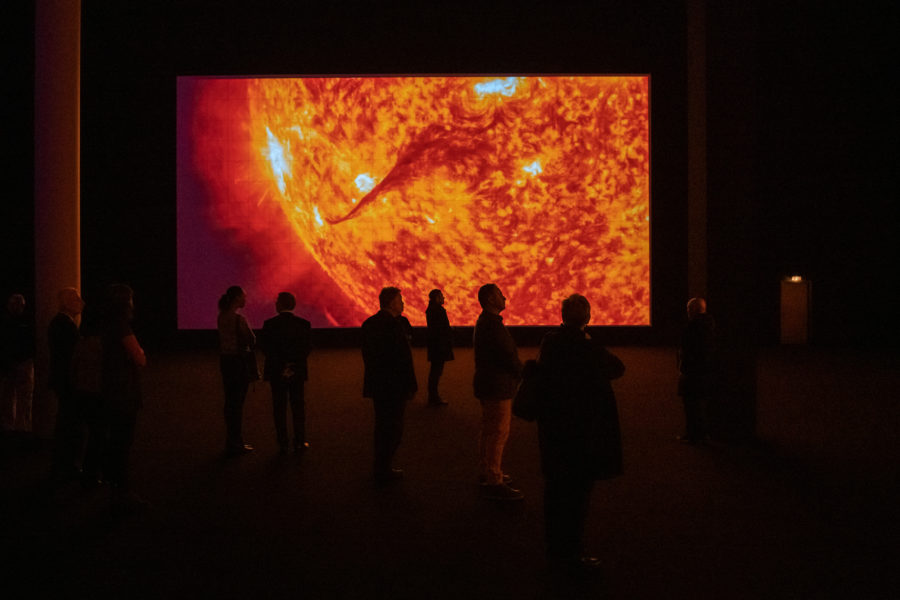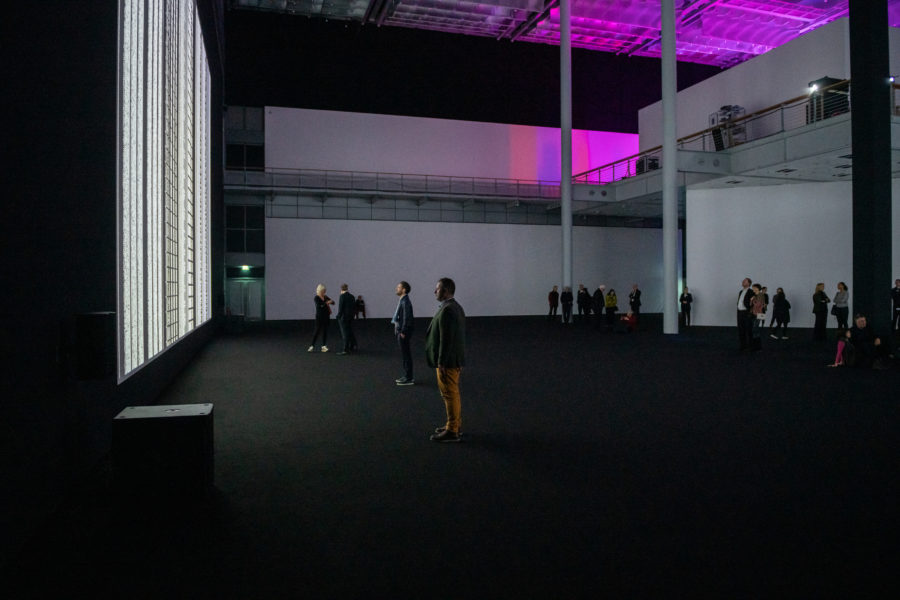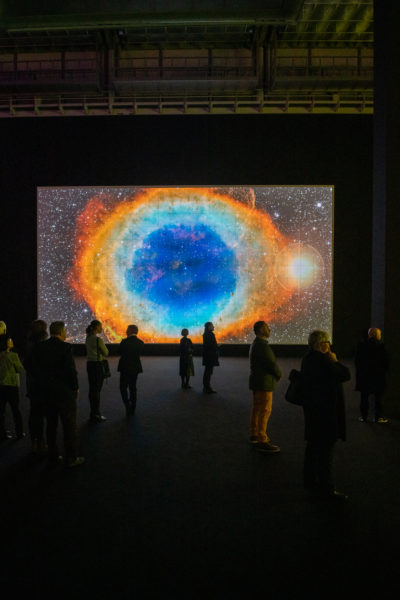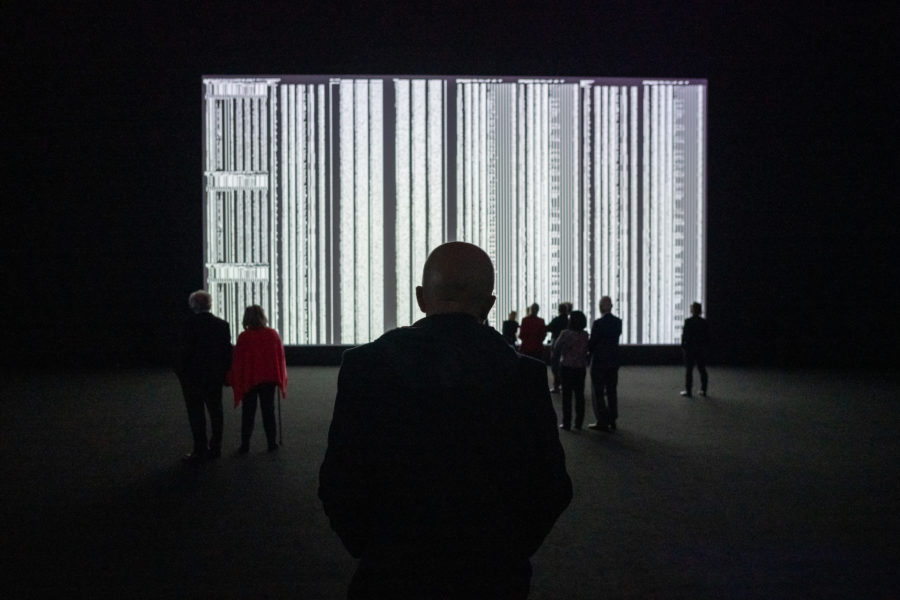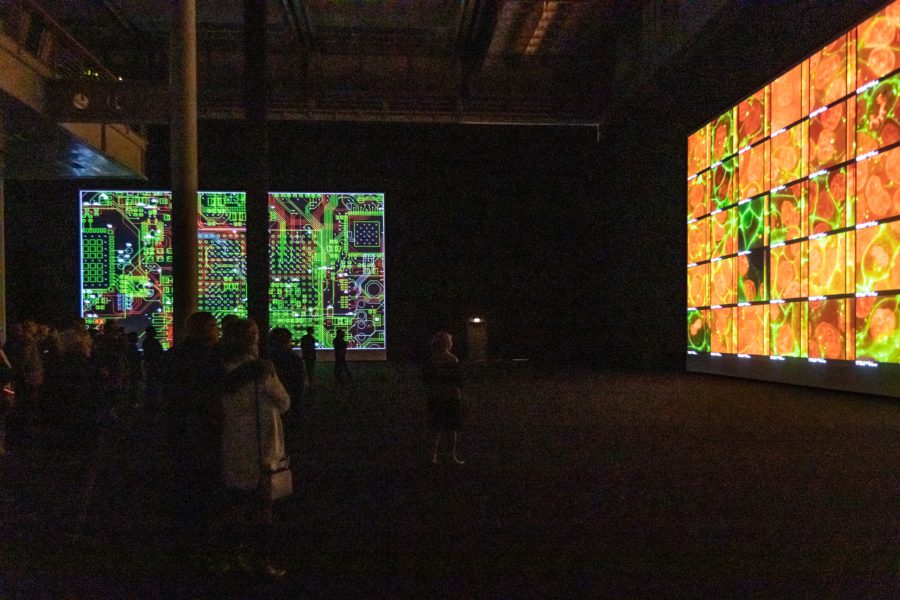 Infos
Ryoji Ikeda (b. in Gifu, Japan in 1966; lives and works in Paris and Kyōto) is one of the world's leading sound and media artists. His often large-format light and sound instal­la­tions have caused numerous inter­na­tional sensa­tions (e.g. 2018 Centre Pompidou, Paris; 2018 Eye Filmmu­seum, Amsterdam; 2015 ZKM Karlsruhe; 2014/15 Minsheng Art Museum, Shanghai).
Ikeda's works reflect the progres­sive digita­liz­a­tion of our society and allow viewers to visually and acousti­cally experi­ence digital universes. With the exhibi­tion, the Kunst­mu­seum Wolfsburg is presenting—for the first time together—two new large-scale projec­tions, which will be installed site-speci­fi­cally in the museum space: data-verse 1 and data-verse 2.
With his works, Ryoji Ikeda strives to "capture the world down to the smallest detail" (R. I. 2008). His light and sound instal­la­tions thus have their origins in mathe­ma­tics, physics, and biology, as well as in musico­logy and philo­sophy. Ikeda succeeds in making the abstract volumes of data and computing power we deal with every day compre­hen­sible. He lets viewers immerse themselves in digital universes, which oscillate between the smallest measurable units, i.e. bits and bytes, and cosmic dimensions—they give the impres­sion as if, with the data streams, one were on a journey through space.
Alongside instal­la­tion works, Ikeda has been working on projects through live perfor­mances, books and CD's such as +/- (1996), 0°C (1998), matrix (2000), dataplex (2005), test pattern (2008), super­codex (2013), and music for percus­sion (2018) which pioneered a new minimal world of electronic music through his razor-sharp techni­ques and aesthetics.
On the one hand, the surroun­ding archi­tec­ture is decisive for his instal­la­tions and is taken into account in the set-up of the works. On the other hand, visitors to the exhibi­tion are invited to move about in the space in order to reeva­luate their own percep­tion and sound out the relati­onship between space and time. The pulsating sounds under­lying the instal­la­tions range in their spectrum from barely audible sine tones to dull, physi­cally percep­tible bass sounds. The latest 4K projec­tion techno­logy contri­butes to trans­forming the exhibi­tion into a fasci­na­ting total synesthetic experience.
Curator
Andreas Beitin
Curato­rial Assis­tance
Birte Hinrichsen

with generous support from


Publication
Press
Ikeda's light and sound instal­la­tions draw their origins from mathe­ma­tics, physics and biology, as well as from musico­logy and philosophy.

Show on Show, 5.12.2019
Ryoji Ikeda wird rund um den Globus als einer der ganz großen Künstler seines Fachs gefeiert.

NDR.de, 6.12.2019
Mit der audio­vi­su­ellen Arbeit "Data-Verse" im Kunst­mu­seum Wolfsburg strebt der Medien­künstler Ryoji Ikeda an, die Mensch­heit zu vermessen. Ein ambitio­niertes Projekt aus Daten­strömen, Sounds und Bildern, das "erstmal eine komplette Überfor­de­rung" darstelle, sagte Kurator Andreas Beitin im Dlf.

Deutschlandfunk.de, 7.12.2019
Daten­ströme umgeben uns, doch unsichtbar und lautlos entziehen sie sich unserer Wahrneh­mung. Der japani­sche Medien­künstler Ryoji Ikeda trans­for­miert Big Data in überwäl­ti­gende Licht- und Klang­in­stal­la­tionen, live zu erleben im Kunst­mu­seum Wolfsburg.

Janek Wiechers, 7.12.2019