Empowerment
September 10, 2022 – January 08, 2023
Images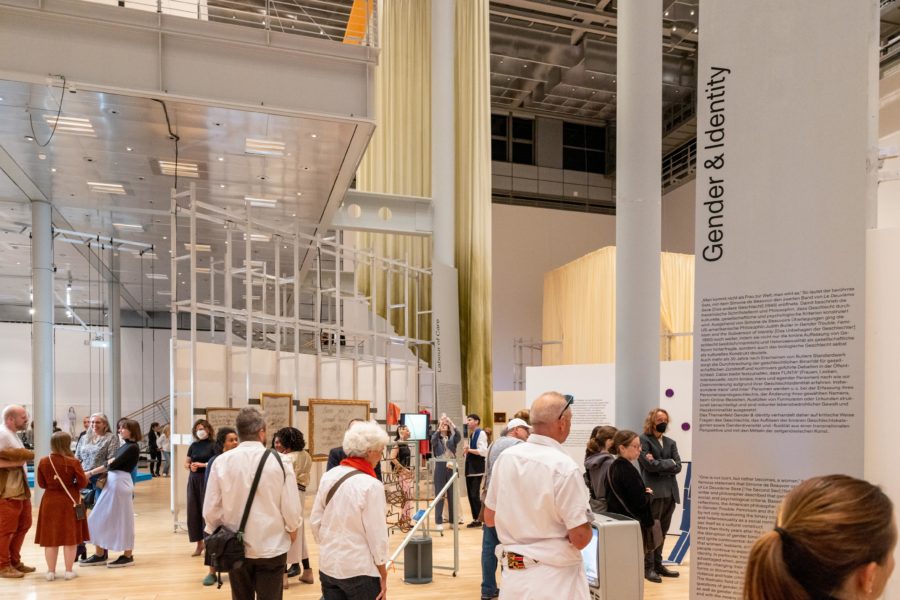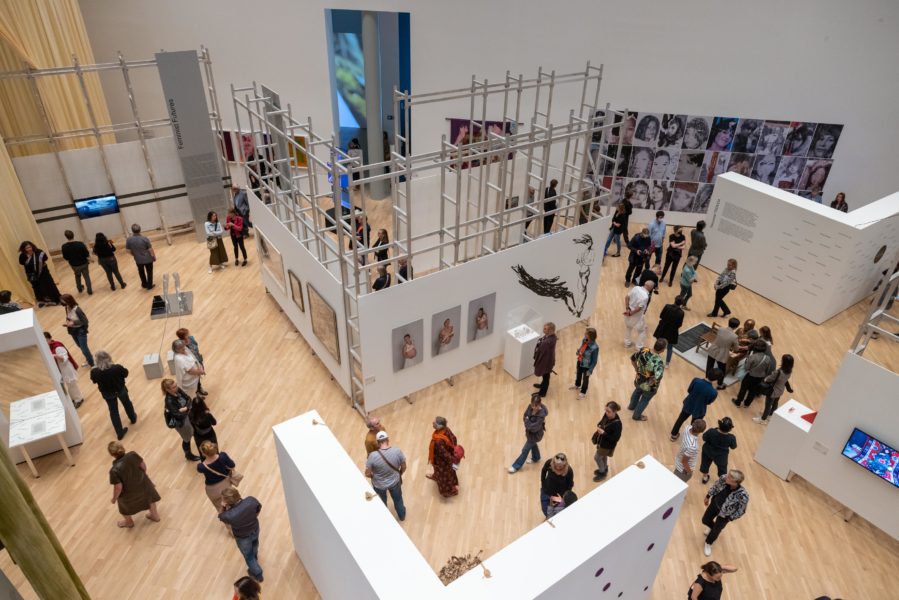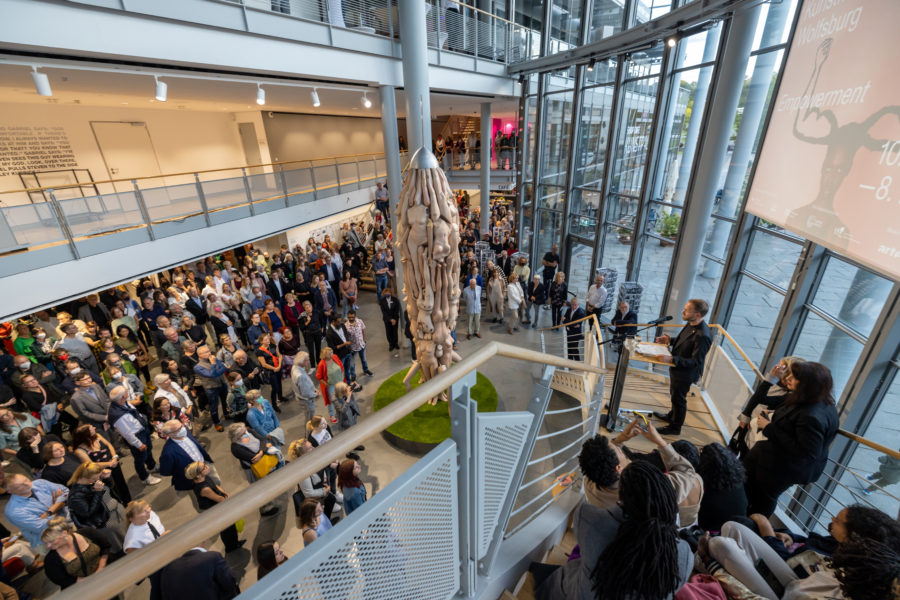 .
Infos
Yes, we want all people to have the same rights and oppor­tu­nities! Yes, we want to use art to raise awareness and to enable sustainable and effective encoun­ters! Yes, we want to contri­bute to equality and to encourage and empower people who are margi­na­lized or affected by discri­mi­na­tion. And yes, the world would be a better place if we were all feminists: "We should all be feminists!" (C. N. Adichie). The exhibi­tion Empower­ment brings together diverse feminist approa­ches and under­stands these as progres­sive methods to analyze the societies of the world with the means of art and to show possible ways out of the global crises.
Despite worldwide movements, demons­tra­tions, and petitions to establish equality, it is still not possible in the twenty-first century to speak of compre­hen­sive gender equality with regard to women and LGBTQIA+ communities—neither in this country nor elsewhere. In many places, struc­tural relati­ons­hips of power and inequa­lity prevent equal payment or the remune­ra­tion of domestic work and ensure oppres­sion and explo­ita­tion up to physical violence or even murder: Countless artists worldwide react to these untenable condi­tions with their works in order to achieve equal and future-oriented life oppor­tu­nities for themselves and other margi­na­lized people. Now is exactly the right time to gain an overview of how artists imbue their art with political meaning and create such fasci­na­ting and evocative works of art.
With the exhibi­tion Empower­ment, the Kunst­mu­seum Wolfsburg is for the first time offering such a compre­hen­sive global overview of art and feminisms of the twenty-first century with roughly 100 artistic positions from some fifty countries from all conti­nents. Within the framework of seven thematic fields that have emerged from the worldwide research (Protest & Empower­ment, Gender & Identity, Hersto­ries & Other Narra­tives, Desired & Violated Bodies, Labour of Care, Planetary Challenges, Feminist Futures), the artworks will explore the following questions, among others: How do artists act out of their respec­tive situa­tions in the postco­lo­nial, digital present? What emanci­pa­tory under­stan­ding underlies their art? How do they broaden their view of a feminist-oriented future? Questions regarding social inequa­lity, sexism, racism, migration, the relati­onship of bodies, techno­logy, and ecolo­gical concerns will also be negotiated. These issues affect everyone.
In order to do justice to these globally signi­fi­cant perspec­tives, several inter­na­tional networks of scholars, curators, and artists were initiated for Empower­ment. Our own research was thus supple­mented by artistic proposals from globally active regional experts. The curato­rial perspec­tive has also been expanded by the invited collec­tives Nacional TROVOA (Brazil), Njabala Founda­tion (Uganda), What the hELL she doin! (Great Britain/ Kenya/South Africa/Uganda), AXA projects (China), and Sandbox Collec­tive (India), each of which will curate their own Guest Space within the exhibi­tion. Empower­ment is presented in a sceno­graphy designed especially for the show by the award-winning Berlin studio raumlabor.
The exhibi­tion will be accom­pa­nied by a compre­hen­sive publi­ca­tion in coope­ra­tion with the Federal Agency for Civic Education: Empower­ment. Kunst und Feminismen (Art and Feminisms) with contri­bu­tions by roughly fifty inter­na­tional authors and interview partners, edited by Andreas Beitin, Katharina Koch, and Uta Ruhkamp, with 500 pages, approx. 400 illus­tra­tions, German (separate English text edition), available for only 7 € in the museum shop, at kunstmuseum.de/shop, or at bpb.de (plus postage).
Parti­ci­pa­ting Artists

Ebtisam Abdulaziz, Stacey Gillian Abe, Arshi Irshad Ahmadzai, Heba Y. Amin, Maja Bajević, Natalie Ball, Yael Bartana, Mehtap Baydu, Alexandra Bircken, Benedikte Bjerre, Monica Bonvicini, Phoebe Boswell, Andrea Bowers, Danielle Brathwaite-Shirley, Candice Breitz, Anetta Mona Chişa & Lucia Tkáčová, Christa Joo Hyun D'Angelo, Susana Pilar Delahante Matienzo, Birgit Dieker, Display Distri­bute, Zehra Doğan, Anna Ehren­stein, Ndidi Emefiele, Nona Faustine, Renata Felinto, Nathê Ferreira, Keltie Ferris, Kasia Fudakowski, Regina José Galindo, Ellen Gallagher, Golden­dean, Gabrielle Goliath, Jenna Gribbon, Nilbar Güreş, Shilpa Gupta, h.arta group, Mathilde ter Heijne, Hyphen-Labs, HOU I‑Ting, Chen Jialu, Patricia Kaersen­hout , Gladys Kalichini, Šejla Kamerić, Mari Katayama, Kerolayne Kemblin, Yuki Kihara, Seo-Kyung Kim & Eun-Sung Kim, Jakob Lena Knebl, Yaka Huni Kuin, Laetitia Ky, LASTESIS, Kitso Lynn Lelliott, Pixy LIAO, Laís Lino, Ann Lisle­gaard, XIAO Lu, Maria Macedo, Mary Maggic, Senzeni Marasela, Teresa Margolles, Taianã Mello, Silvana Mendes, Mitti Mendonça, Aline Motta, Shana Moulton & Nick Hallett, Zanele Muholi, Kresiah Mukwazhi, Marina Naprush­kina, Wura-Natasha Ogunji, Zohra Opoku, Tanja Ostojić, Pacific Sisters, Rosana Paulino, Âmbar Pictórica, Irena Jukić Pranjić, #purple­noise, Pushpamala N, Pussy Riot, Xiaoshi Qin, Lisa Reihana, Elianna Renner, Tabita Rezaire, Pipilotti Rist, Tracey Rose, Boryana Rossa, Raeda Saadeh, Larissa Sansour & Søren Lind, Mariela Scafati, Berni Searle, Selma Selman, Mithu Sen, Lerato Shadi, Tejal Shah, Nazaré Soares, Joulia Strauss, Melati Suryo­darmo, Sandeep T K, Newsha Tavako­lian, Elena Tejada-Herrera, Bussara­porn Thongchai, LIN Tianmiao, Wu Tsang, Moara Tupinambá, Kawita Vatana­jy­ankur, Mônica Ventura, Kara Walker, Leafā Wilson alias Olga Hedwig Krause mit Faith Wilson & Olive Wilson, Anna Witt, Ming Wong, Shevaun Wright, Juliana Xukuru, Jing Y., LEI Yan, CAO Yu, Mia YU, Jade Maria Zimbra

Collek­tives / Guest Spaces

AXA projects (China / Germany):
Antonie Angerer, Anna-Viktoria Eschbach, Xiaotian Li

Nacional TROVOA (Brasil):
Yedda Affini, Nutyelly Cena, Bianca Leite, Bárbara Milano und das gesamte Netzwerk

Njabala Founda­tion (Uganda):
Pamela Enyonu, Martha Kazungu

Sandbox Collec­tive (India):
Shiva Pathak, Nimi Ravindran

What the hELL she doin!
(Great Britain / Kenya / South Africa / Uganda):
Sonia E. Barrett, Syowia Kyambi, Immy Mali, Usha Seejarim
This English book is published to comple­ment the German-language publi­ca­tion Empower­ment. Kunst und Feminismen (Art and Feminisms), which has been produced in coope­ra­tion with the Federal Agency for Civic Education (available for €3 in the museum shop, at kunstmuseum.de/shop, or at bpb.de (plus postage).

Curators:
Andreas Beitin, Katharina Koch, and Uta Ruhkamp
Curato­rial Assistants:
Regine Epp and Dino Steinhof