Walk The Line
New Paths in Drawing
April 26, 2015 – August 16, 2015
Installationviews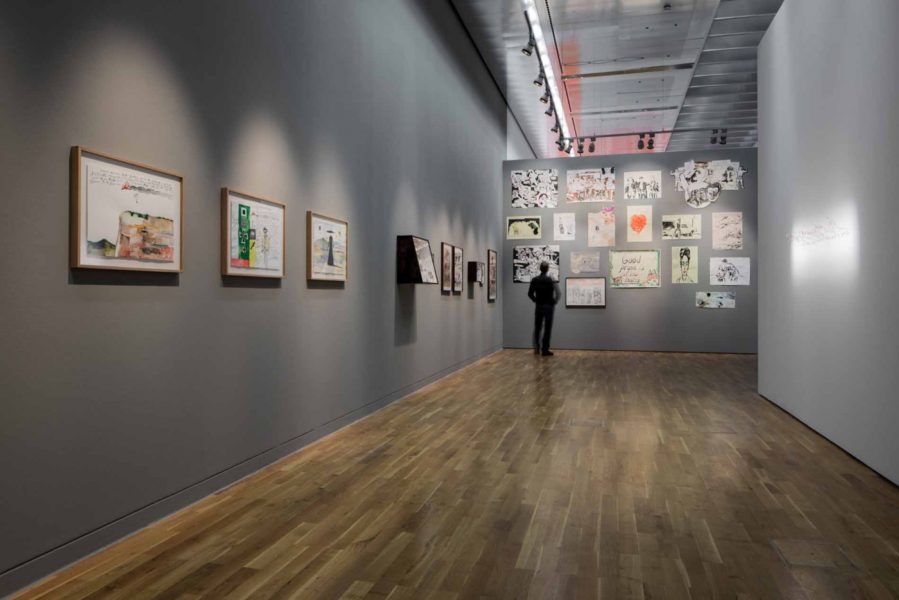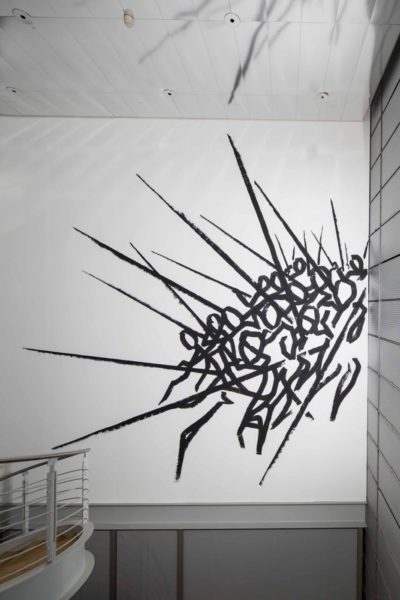 Info
"What's up, people?" This comment, written by a teenager in the guestbook of the Kunst­mu­seum Wolfsburg, was used by Christian Jankowski for his neon text that shines as the leitmotif above the exhibi­tion: "Walk the Line!"
The show explores the articu­la­tion possi­bi­li­ties between image and writing, between line, area and space and finds new paths in drawing in often instal­la­tive works. Featuring 105 works, the Kunst­mu­seum Wolfsburg's survey exhibi­tion presents text-image combi­na­tions (Marcel Dzama, Nedko Solakov, Raymond Pettibon), animation sequences (William Kentridge, Katie Armstrong), cut-outs and gravures (Mario BieRende, Pia Linz, Awst & Walter), adapt­ations of musical struc­tures (Jorinde Voigt, Angela Bulloch, Gregor Hilde­brandt) in addition to space-filling light instal­la­tions (Mariana Vassileva, Carsten Nicolai). Ten of the 37 parti­ci­pa­ting artists produced new pieces especially for this exhibition.
Drawing is often referred to as "thinking with the pen." Drawing has been outgro­wing its tradi­tional materials and techni­ques since the mid-1960s at the latest. Concep­tual approa­ches as well as non-material proce­dures have opened the doors of 'drawing' even wider. The use of modern techno­lo­gies has moreover enabled drawing to not only conquer new surfaces but also spaces, and even penetrate the dimension of time. Over the past ten years, in parti­cular, numerous young artists from across the world have redis­co­vered drawing. The show focuses on such thematic areas as narration, abstrac­tion in the open line, the moving line (animation, film), archi­tec­ture, space, music, fantastic worlds and their inter­lea­ving or juxta­po­si­tion with reality as well as drawing concepts in scien­tific and episte­mo­lo­gical contexts.
The parti­ci­pa­ting artists are Katie Armstrong, Il-Jin Atem Choi, Awst & Walther, Mario BieRende, Karoline Bröckel, Angela Bulloch, Marcel Dzama, Fred Eerdekens, Friede­rike Feldmann, Christine Gensheimer, Gregor Hilde­brandt, Katharina Hinsberg, Christian Jankowski, Zilvinas Kempinas, William Kentridge, Byungjoo Lee, Pia Linz, Alison Moffett, Keita Mori, Lada Nakon­echna, Carsten Nicolai, Pavel Pepper­stein, Raymond Pettibon, Christian Pilz, Jen Ray, Alexander Roob, Yehudit Sasportas, Simon Schubert, Nedko Solakov, Troika, Mariana Vassileva, Jorinde Voigt, Tim Wolff und Ralf Ziervogel.
The exhibi­tion is accom­pa­nied by a catalogue featuring numerous instal­la­tion views and an intro­duc­tion to the exhibi­tion by Holger Broeker as well as texts on the exhibited works (96 pages, ca. 50 colour illustrations).
Videos